'Honour is Good Business'
The CEO Roundtable will bring together leaders of organisations to share and discuss why and how Honour should be an integral part of their leadership philosophy and strategy for sustainable success – to walk the talk, lead with integrity, and honour all whom they work with.
24 July 2019 (Wed)




10am – 2pm


Fullerton Hotel Singapore
(Straits Room, Level 4)
Cost (includes lunch): $300 per person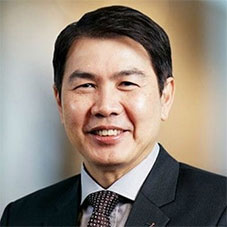 Mr Lim Ming Yan
Former President & Group CEO, CapitaLand Limited
Mr Lim Ming Yan spent 22 years with CapitaLand and was its president and group CEO from 2013 to 2018. During his time there, he turned CapitaLand into China's largest foreign real estate player.
The Ascott Group, under his leadership between 2010 and 2018, grew from a portfolio of about 25,000 serviced residence units to more than 100,000 units.
Mr Lim is a Board Member of the Building and Construction Authority of Singapore, Director of Business China, an organisation that promotes bilingualism and biculturalism between Singapore and China, as well as Board Member of the Singapore Tourism Board.
Mr Lim was the Chief Operating Officer of CapitaLand from May 2011 to December 2012 and Chief Executive Officer of The Ascott Limited from July 2009 to February 2012. Prior to joining Ascott, Mr Lim was the Chief Executive Officer of CapitaLand China Holdings Pte Ltd from November 2000 to June 2009, responsible for growing CapitaLand into a leading foreign real estate developer in China.
Mr Lim was named Outstanding Chief Executive (Overseas) at the Singapore Business Awards 2006. He was also conferred the prestigious Magnolia Award by the Shanghai Municipal Government in 2003 and 2005 for his significant contributions to Shanghai.
Mr Lim obtained first class honours in Mechanical Engineering and Economics from the University of Birmingham, United Kingdom in 1985. He attended the Advanced Management Program at Harvard Business School in 2002.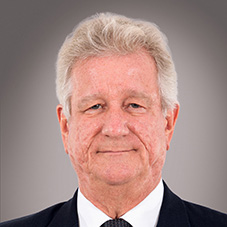 Mr Jonathan Asherson
Former Non-executive Chairman, Rolls Royce Singapore
Mr Jonathan Asherson is Chairman of the Singapore International Chamber of Commerce and former Non-executive Chairman of Rolls-Royce Singapore Pte Ltd, based in Singapore. He is an independent non-executive director of Sembcorp Industries Ltd and Genting Singapore Ltd and is also a Senior Adviser for St James's Place Wealth Management Ltd, and a consultant to UMW Berhad.
Jonathan is a Council Member of the Singapore National Employers' Federation and a Board Member of the Economic Development Board of Singapore from 2007 – 2011. He was also on the Committee for the Future Economy in 2016. He is a Past President of the British Chamber of Commerce in Singapore.
Jonathan was conferred the Public Service Medal under the Singapore National Day Awards in 2009 and received an OBE in 2010. He was awarded an honorary Doctorate of Science from Kingston University in 2010. He has worked in Germany, the USA, China and Malaysia. He speaks fluent German. Jonathan grew up in Singapore and Zambia and is married with one daughter.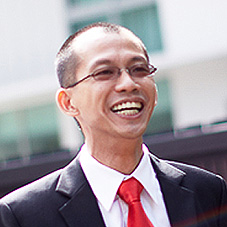 Mr Peter Ho
CEO, HOPE Technik
Mr Peter Ho is one of the Directors at HOPE Technik Pte Ltd, a company he co-founded in 2006. HOPE Technik is an engineering solution provider specializing in niche areas of high-tech engineering, with departments in Unmanned systems, Defence, Bio-medical, Smart Logistics and Special Vehicle arenas.
Peter serves as CEO where he guides the company towards long-term technical and business goals, and has seen the company grow from a start-up in 2006 through to a multi-million dollar group at present employing over 60 teammates.
Peter graduated from the National University of Singapore in 2003 with a Second Class (Upper) honours in Mechanical Engineering. For his final year project, he was responsible for setting up and leading the first NUS Formula SAE team, and in his short stint as a staff with NUS, supervised the second NUS Formula SAE team and also secured a contract for Robotic Exploration at the Great Pyramid in Egypt with the National Geographic Society.
Peter subsequently joined Team Petronas Touring Cars, a racecar engineering team that competed in the British, German and Asian Touring Car Championships, and rose quickly from an entry mechanic through to his final appointment as Chief Engineer.
Having satisfied his decade-long thirst for racecar engineering, he returned to Singapore and co-founded HOPE Technik (together with Michael Leong, Jeff Tang and Ng Kiang Loong). He has been involved in nearly all of the 250+ projects the company was contracted to execute, for a plethora of global clients in the defence, aerospace, medical and commercial arenas.
Peter was awarded the Outstanding Young Alumni Award from NUS in 2009 and HOPE Technik was awarded the Innovator Award for the Emerging Enterprise Award from OCBC/ SPH in 2012.
Peter is part of the Consultative Committee to the Department of Mechanical Engineer at the National University of Singapore, where he also holds an Adjunct Assistant Professor appointment. Peter is also a member of the Singapore Science Centre Sub-committee for Programming and is a Board member of Composite Cluster Singapore Pte Ltd and Airgo Design Pte Ltd.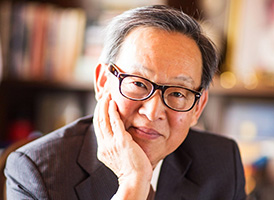 Mr Lim Soon Hock
Former Vice President and Managing Director of
Compaq Computer Asia Pacific
Mr Lim Soon Hock has more than 30 years of experience as a board member, CEO, technopreneur and private investor, across various highly competitive industries in a global environment.
He is best known as the former Vice President and Managing Director of Compaq Computer Asia Pacific, for taking the company to US$1 billion from under US$30m – in just seven short years — in what was arguably the most difficult market in the world then.
Mr Lim is currently the Founder and Managing Director of PLAN-B ICAG Pte Ltd, a boutique corporate advisory firm. Post Compaq, he has been involved in taking companies public, M&As and consulting for several global MNCs and promising SMEs.
He continues to sit on the boards of several government agencies, public listed and private companies, as well as not-for-profit organisations.
Mr Lim spent more than 25 years in public service and community service in various appointments and chairmanships on a voluntary basis. He is a Justice of the Peace, a Volunteer Mediator with the State Courts and is a Member on the Singapore Mediation Centre's Panel of Family Mediators and Associate Mediators Panel.
A Registered Professional Engineer and a Chartered Engineer, he is a Fellow of Institution of Engineers Singapore, Institution of Engineering and Technology UK, Academy of Engineering Singapore, Singapore Computer Society, Singapore Institute of Directors and Singapore Institute of International Arbitration.
Mr Lim received numerous awards in recognition of his work and public service. These include the 2016 Outstanding Court Volunteer ( Open Category as a Mediator ), 2014 National Day Public Service Star; 2009 National Day Public Service Medal; 2012 President's Award for Volunteerism from National Volunteerism and Philanthropy Centre; 2010 IES-IEEE Joint Medal of Excellence Award; 2010 Honorary Fellow of ASEAN Federation of Engineering Organisations; 2009 NUS Distinguished Alumni Service Award and 1992 NUS Distinguished Engineering Alumni Award.
He is the author of 3 books in the "Vantage Views" series, which is a collection of his thoughts on Contemporary Issues. All the proceeds from the sale of the 3 books were donated to charities. Mr Lim is also the Co-Editor and Author of "Golden Nuggets", which is a collection of short stories by seniors based on their myriad life experiences and observations. The moral values contained therein are intended to be shared with the younger generations. It was a charity book project to support Halogen Foundation Singapore, of which he was board chairman from 2013 to 2018.
We live in a dynamic and changing world. In order to be successful over the long-term, individuals and businesses have to make changes in their thinking and their practices, and this will be both challenging and dynamic.
A very critical question is how to successfully navigate these uncharted waters so as to leave for future generations a hope and promise so that they can seek to be the best they can be according to their talents and abilities, and have good capacity to contribute to the well-being of family, society and nation.
One particular challenge CEOs face is that of corruption, integrity, morals and ethics. As one of the CEOs had told us, representing what appears to be widely held, "Honour is a good idea, but not practical."
As the most serious aspect of corruption may well be the weakening of trust within a company and not just with customers and business partners, we can well understand the dilemma which many CEOs face of whether they can really avoid bribery if they are to succeed in business in a region and a world widely seen as inclined to compromise integrity. At the same time, we have come across companies which have successfully found ways to build relationships and succeed in business while maintaining integrity as a critical value or strategy for the long-term success of the company.
Someone has said, when the question on the issue before us moves from "Is this a good and right thing to do?" to "Is this legally defensible?", senior management needs to know they have crossed the ethical boundary in the way they think of their business, and thereby risk undermining the moral underpinnings of the company both in internal management as well as in external relationships. But there are good stories to tell of how companies have successfully steered their way to success with Honour.
It is with this end in mind that Honour (Singapore) is planning a special CEO Roundtable with the theme 'Honour is Good Business' to help and encourage CEOs who wish to conduct their business in such fashion. The CEO Roundtable will bring together leaders of organisations to share and discuss why and how Honour should be an integral part of their leadership philosophy and strategy for sustainable success – to walk the talk, lead with integrity, and honour all whom they work with.
Our three speakers at the forum will be Mr Lim Ming Yan (Former President & Group CEO, CapitaLand Limited), Mr Jonathan Asherson (Former Non-executive Chairman, Rolls Royce Singapore), and Mr Peter Ho (CEO, HOPE Technik).  The forum will be moderated by Mr Lim Soon Hock (former Vice President and Managing Director of Compaq Computer Asia Pacific). There will be a charge of $300 per person for attendance to help defray our costs as well as contribute towards the promotion of Honour in business, work and life.
I hope very much that you, or anyone you wish to bring along, will be able to join us at this forum. Kindly let us know if you are able to attend the CEO Forum by registering here or writing to Ms Christin Tan at events@honour.sg by 15 July 2019.
Thank you,
Lim Siong Guan
Founding Chairman, Honour (Singapore)
Fill in your details below to sign up for the CEO Roundtable 2019. The registration fee of S$300 per participant can be paid by cheque or credit card. Please indicate your preferred option below.
Should you require further assistance, please contact Christin Tan at events@honour.sg or +65 64388175