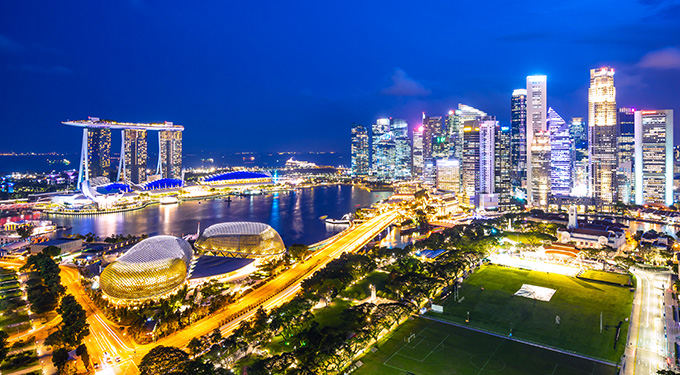 Dear Friends and Partners of Honour (Singapore)

My grateful thanks to you for standing with us as we persevere on to promote a culture of Honour and Honouring for the well-being of Singapore and Singaporeans. Our hope is that Singapore continues to be HOME, abundant with HOpe and MEmories, not only for our generation, but also for the future generations to come.

As we mark the 8th anniversary of the passing of Singapore's founding father Mr Lee Kuan Yew on 23 March, we are reminded of the criticality of upholding the values espoused by our founding fathers. Mr Lee personified an absolute commitment to integrity, delivering on whatever promise he made, refusing to promise what he could not deliver, and honouring his word with action. Mr Lee brought Singapore through the momentous years first of internal self-government in 1959, then merger into Malaysia in 1963, then separation from Malaysia in 1965, then establishing Singapore in the community of nations as a country both independent and sovereign, assuring both its survival and success.

Under Mr Lee's leadership, Singapore, with a land area just 60 percent that of New York City, became a leading light of trustworthiness and incorruptibility, where her people work hard and strive for excellence, and whose brand image is that of trust, reliability and dependability. May we honour our founding fathers that their spirit of trust, honour and integrity live on and never be compromised.

| | |
| --- | --- |
| | KEY UPDATES |
This quarterly newsletter updates you on our key initiatives because you are our valued partner, encourager and supporter in the worthy cause of honour.

LEADERS FORUMS: The Leaders Forum is a regular forum that we organise to bring together leaders of organisations, big and small, to discuss how Honour would be critical for sustainable success of their organisations. Our next forum will be held on 13 April 2023. Our guest speaker is Ms Wong Ai Chiat, Head of Governance and Client Relations, and Director, Corporate Administration & Infrastructure, GIC Private Limited, who will be speaking on "Trust and Teamwork for Business Survival and Success" to help and encourage CEOs and leaders as they lead their organisations forward. We are over subscribed for this session and thank you for your overwhelming support. The next forums will be held on 6th July and 14th September. If you are the CEO or a C-suite Leader, and would like to attend one of these forums, please get in touch with me at LimSiongGuan@honour.sg to express your interest.

TALKS: I continue to speak about Honour, on an invitation-only basis, at schools, companies, and community groups. Just last week, I had a wonderful opportunity to share with a small group of energetic business leaders and CEOs some thoughts on leadership and the criticality and cruciality of honour for sustainable success. An overview and summary of the key points shared during the presentation, with the essence of leadership summarised as Think People, Think Future, Think Excellence, is captured in this wonderful and succinct visual recording below which I hope you will find helpful and beneficial in your pursuits: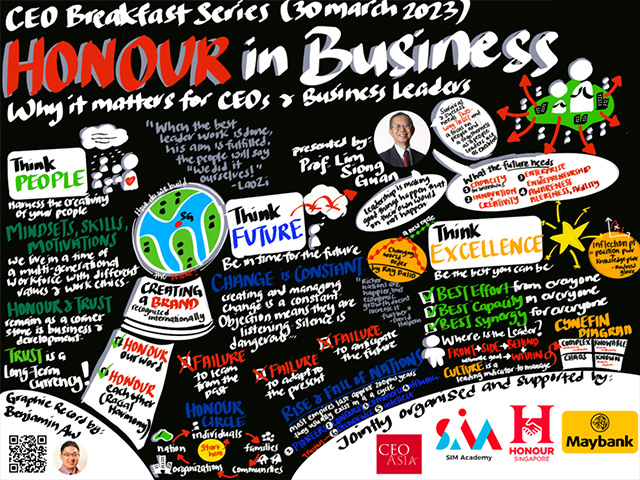 If you believe such a session would be a boost to the vision and morale of the people in your sphere of influence, and would like me to speak at such a session, do let me know at LimSiongGuan@honour.sg.

HONOUR CHAMPIONS COMMUNITY: Honour (Singapore) is acutely aware that if the world of family, society, business and government is to benefit from greater trust and care and concern between people, the virtue of honour has to become a habit and a natural part of each of our lives. And this will not happen unless there are significant numbers of people who resolve to be "Champions of Honour", as meaning they believe so much in the value of Honour for life and living that, whether it be social or business circles, they will champion the idea and practice of Honour as best they can. Honour (Singapore) enables and encourages this through the formation of Honour Champions Groups, these being groups of people who decide to come together to share their personal thoughts and experiences on promoting honour at home, in the neighbourhood and at the workplace. We are making good progress, and would welcome all who are prepared and convicted to identify themselves as Honour Champions to join this movement of the Honour Champions Community, made up of Honour Champions Groups which each have a point of focus that brings their members together.

We currently already have a number of Honour Champions Groups of young professionals, sustainability advocates, HR professionals, Agility and so on. We will be happy to create any number of new Champions Groups to meet the needs of more Honour Champions. Please contact us so we can meet to discuss how you can join or lead an Honour Champions Group, and succeed as leaders, influencers and multipliers of Honour. Our belief is that the culture of Honour promoted through Honour Champions will not just be critical for Singapore's continuing survival and success as a nation, but also critical for the survival and success of our businesses and families, and our effectiveness as leaders and workers for the future. Should you wish to learn more about the Honour Champions Community, please visit our website at https://honour.sg/community/.
| | |
| --- | --- |
| | THANK YOU |
Thank you very much again for your continued support, help, and encouragement for Honour (Singapore). Finally, on an administrative note, we are glad to report to you the annual audit of our accounts for our financial year of 1 June 2021 – 31 May 2022. The auditors have found them to be in good order; you can find a copy of their report here.

Should you have any ideas and feedback on what we can do better, please get in touch with me at LimSiongGuan@honour.sg. We look forward to your continued support as we seek the well-being of Singapore.


Lim Siong Guan
Founding Chairman
Honour (Singapore)